Indigenous Vision combines instructional material with our high-impact facilitation team to educate and inspire change. Training and workshops are held on a variety of topics that provide holistic education for tribal government departments, community members, organizations, and businesses.
Environmental Awareness 101
Education and awareness on issues impacting our natural resources and health. Topics on water resource management, pollution, hazardous materials, climate change, and health and cultural impacts. All areas focus on traditional relationship and practices of land use with an aim to apply these practices today to protect our communities.
Cultural Humility 101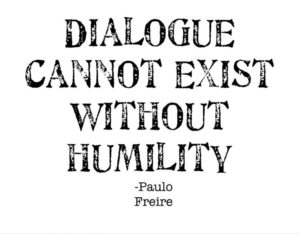 This training focuses on the concept of cultural humility. This challenges the participants to become accountable and encourages self-reflection. We are not all one color. The old idea of gaining competence eluded that that individual can reach the goal of becoming competent in all cultures, which is not possible.  This training is designed for youth, employees and community members where participants learn three objectives; 1. cultural humility and its components 2. why there is a need for cultural training 3. effective ways to decrease discrimination and respond to prejudice. The concepts of this training focus around paying respects to the territories first people.
Meeting Facilitation Services
To get the most out of any event, a well designed, interactive, and professional facilitation can make all the difference. Let us handle the stress of your next event by letting IV plan, facilitate, and report for you! Besides peace of mind, the benefits to you include increased participation, greater efficiency and productivity. Our team has experience working with tribal governments and departments, grassroots and youth organizations!
Our facilitation expertise include:
Team Building
Conference Planning
Project Planning
Board Retreats
Inter-Tribal Departmental Networking and Outreach
Ideation & Brainstorming
Effective meetings are based on five principles
Whole hearted participation, focused on clear objectives, using processes to harness energy and diversity, creates visible results and healthy respectful teams.
Let us move your ideas into action!
Positive Indian Parenting (PIP) Training
Indigenous Vision is a certified trainer of PIP through the National Indian Child Welfare Association (NICWA). Participants go through a 9 session curriculum that honors our children by honoring our traditions.
Topics include:
Lessons of the storyteller
Lessons of the craddleboard
Lessons of Mother Nature
Praise in traditional parenting
Harmony in child rearing and more!
At the end of the training, participants earn certification in accordance with NICWA.
Youth Empowerment Camp
A 3-5 day summer camp for social change built around positive reinforcement of cultural values and how to apply skills gained. We help 12-17 year-old Indigenous youth in the foster care system make a difference in their lives on the issues they care about — all while having one of the best experiences of their life. Did we mention eating awesome Indigenous food, being out in nature, (re)discovering how amazing they are, and having something great to add to college applications and resumes. If you're concerned about the problems in our communities and want to learn how you can help solve them, our youth camp is a great option! We work to customize each camp to be culturally appropriate and tribal specific for each youth participant. In addition to our in-house environmental and social experts, we bring in tribal elders to rekindle ties with the youth's community and motivational speakers that empower our youth to make positive changes. The is also available as half day and full day workshops. Please contact IV to start customizing your camp today!
Topics include:
Individual Leadership Styles
Positive Self Advocacy
Healthy Lifestyle Choices
Cross Cultural Diversity
Working in Groups
Financial Empowerment?
YES! (Youth Employment Strategy)
Environmental Quality
Indigenous History and Contemporary Issues
Identity Building
Land and Nature Outings